NON-TOXIC "BONA PROFESSIONAL SERIES®" Hardwood Floor Cleaner
Available in 2 Sizes! 
In Sweden.. Bona® finishes and floor care products have been the finest available worldwide since 1919. Bona's Swedish Formula cleaners have been the easiest way to clean your hardwood floors. BONA PROFESSIONAL® is the "ORIGINAL" ENVIRONMENTALLY FRIENDLY BONAKEMI Swedish formula. 
Made in small batches, with purely sourced ingredients, you will use less, save time, money, our environment and get a non-toxic safe product to keep your floors looking great while keeping your family and pets healthy.  
BONA PROFESSIONAL SERIES® is found ONLY in the PLATINUM Bona® PRO SERIES is a much higher quality cleaner than the Bona® White bottle. It is a stronger formula that has a better degreaser than the consumer strength. BONA PROFESSIONAL SERIES® can only be purchased through professional distribution such as professional licensed flooring contractors and dealers.  
This is an environmentally responsible cleaner that cleans your beautiful hardwood floors. Use with Microfiber Wet / Dry Mops.
This is the Only Cleaner Atlas Flooring recommends for your floors.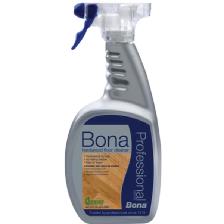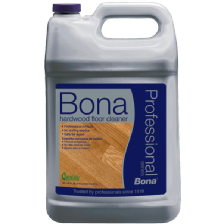 Microfiber Mops are the most effective tools for maintaining your hard floor surfaces. Unlike other mopping products which just push the dirt and dust around Microfiber Mops actually pickup and trap the dirt and dust that you are trying to remove. 
Our Household Microfiber Mop is great for both Dusting and Cleaning with Bona Professional Floor Cleaner.  For use on all types of Hardwood floors.  The pole is Telescopic extending to 4.5 feet. The 15" x 4" Mop Head rotates to all angles for cleaning in tight corners and under furniture.
1.            Mop Pads are easily attached and detached via Velcro
2.            54" Telescoping Pole
3.            15" x 4" Mop Head rotates 360 degrees
4.            Trapezoid shape makes for cleaning hard to reach places
5.            Mop folds completely flat to reach under furniture and appliances
Prices:
Mop hardware and 1 Wet/Dry Micro Fiber Pad $20.00
 They are machine washable up to 300 times. We recommend avoiding the use of Bleach, Fabric softener, and Dryer sheets when washing.
Mop hardware and 2 Wet/Dry Micro Fiber Pad $25.00

Pack of 100 Count 
1" DIA Felt Pads for Furniture $20.00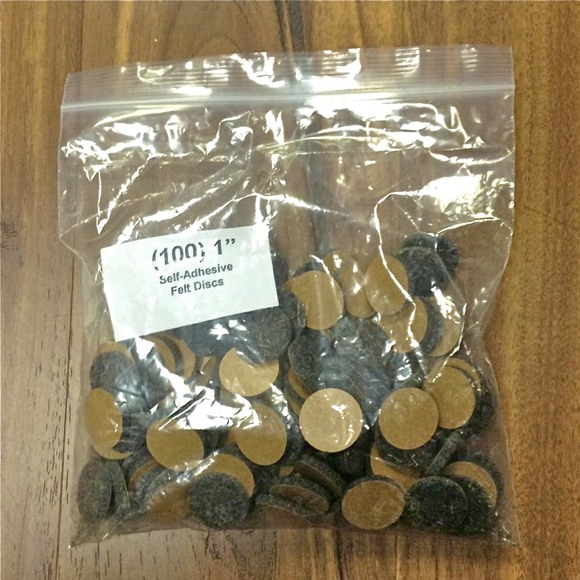 18" High Grade Industrial Aluminum Mop with a Telescope Handle with 1 Micro Fiber 20" Wet Pad $40.00